SpeedFusion 4G/3G Bonding

Cellular Technology Alone Can't Keep Up With Mobile Business Demand.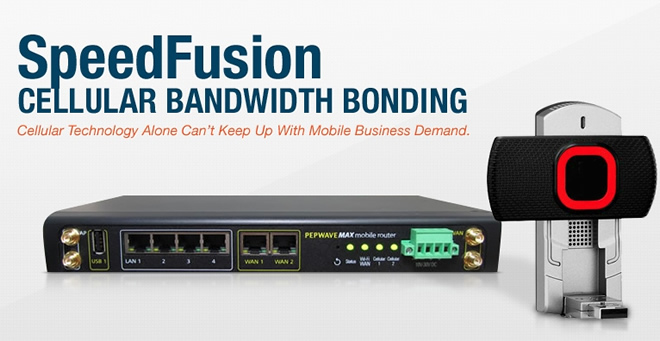 As more and more business takes place outside the office, telecom providers have responded by boosting the speed and reliability of their 3G networks, in addition to rolling out innovations like 4G, LTE, and WiMax in an increasing number of markets. But no matter how quickly cellular data bandwidth and quality improve, mobile business always seems to demand more. From live video streaming and conferencing to ever-larger file transfers and real-time collaboration, today's mobile applications strain even the latest and greatest cellular technology to its limits. The result is fluctuating data quality, unpredictable data rates, and widespread frustration, in addition to costly overage charges.
And then there's security to consider. Though many businesspeople would like to expand mobile operations, they're concerned about the cost of extra VPN equipment necessary to encrypt sensitive business data over cellular connections. Because of this and the inadequate speed and reliability of current cellular technology, businesses are reluctant to rely on cellular connections for demanding and mission-critical applications.
SpeedFusion Cellular Bandwidth Bonding
Turbocharges Mobile VPNs.
SpeedFusion, the technology at the heart of every Balance Multi-WAN and MAX Mobile router, bonds the bandwidth from multiple cellular connections. You get faster and more reliable mobile VPNs in every application. Plus, all your data is secured by military-grade encryption, and data volume is monitored and controlled to keep you under your usage cap and within budget.

Get the Speed You Need On the Road.

SpeedFusion cellular bandwidth bonding automatically aggregates all connected 3G/4G/LTE/WiMAX links to give you fast data transfers, smooth HD video, and blazing performance wherever you go. Need more speed? Just add cellular connections and let SpeedFusion take care of the details.

Enjoy Wired Reliability Without the Wires.
SpeedFusion bonds cellular connections from multiple providers, continuously monitoring link connectivity and automatically switching to healthy connections in the event of link failure. Your network stays up and running, and you stay open for business.

Lock Down Cellular Data Transfers.
SpeedFusion locks down wireless data transfers with military-grade security. All transmissions are encrypted using a 256-bit AES algorithm and then randomly scattered over multiple paths, becoming readable only at their destination. No matter how sensitive your data, you can rest easy knowing that SpeedFusion is always working in the background to keep it from prying eyes.

Keep Your Costs Under Control Automatically.
Our bandwidth usage monitor makes it easy to stay within budget by allowing you to prioritize connections by speed, cost, and data allowance. When you're in danger of exceeding a data cap, SpeedFusion notifies an administrator, and can automatically disconnect the line at 100% data allowance usage or switch to another connection.

Do More on the Road with SpeedFusion.
The speed, reliability, and security delivered by SpeedFusion open up a wide range of new mobile VPN applications in demanding, mission-critical fields, such as newscasting and public safety. In addition, transferring large files, such as those generated by digital production, photography, and POS activities, becomes practical and profitable wherever your mobile workforce roams.