Pepwave SpeedFusion Engine

Industry's smallest SD-WAN platform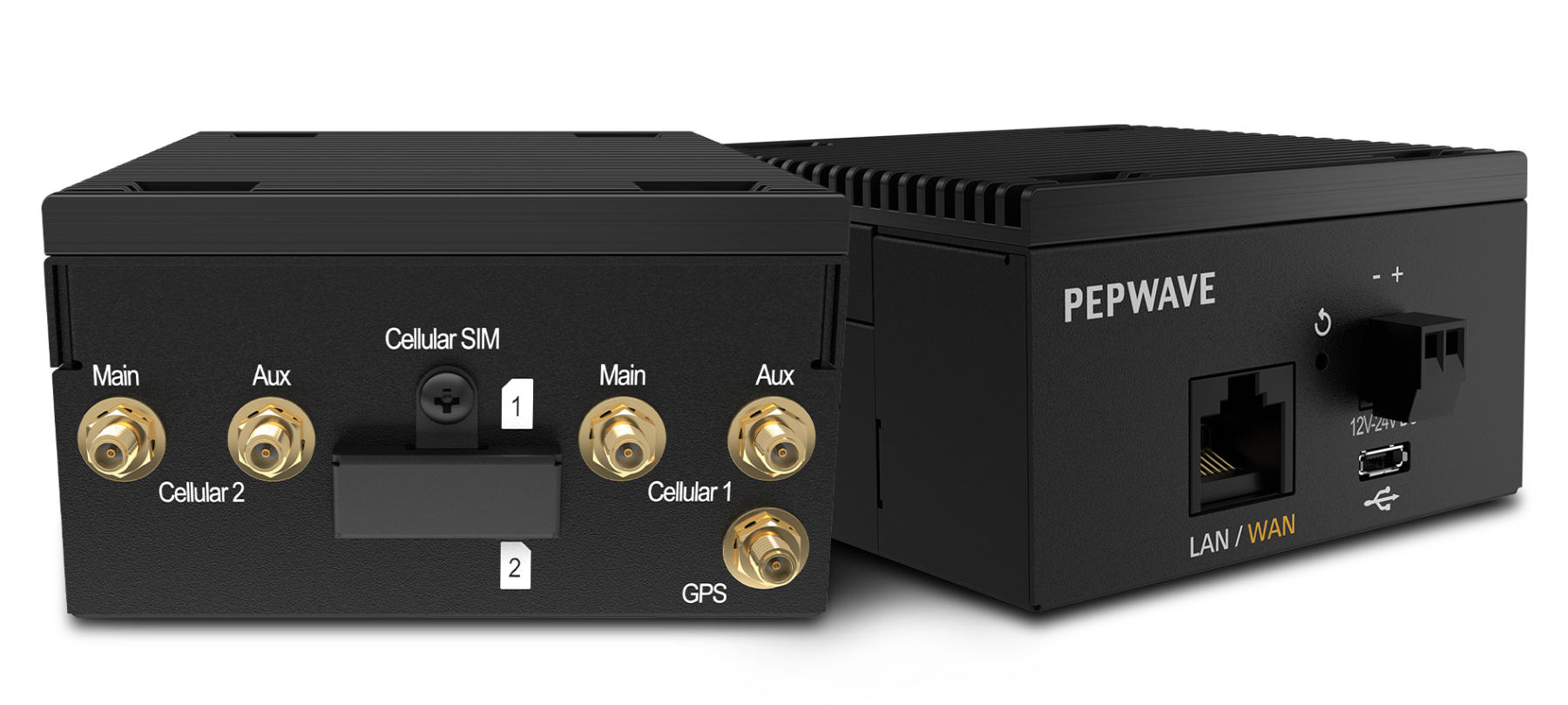 Pepwave Products
Pepwave SpeedFusion Engine
Pepwave SpeedFusion Engine
Accessories
SIM Injector, 8x SIM cards capacity, 4x 10/100/1000 LAN ports, 56V DC
More pricing below, click here!

Please Note: All Prices are Inclusive of GST
Overview:
The SpeedFusion Engine can be easily integrated to your platform. The SpeedFusion Engine allows users to add bonding capabilities to a variety of network setups. Two embedded cellular modems and a wired WAN port give you up to three connections, which can be bonded with unbreakable VPN for faster data uploads and downloads.
Ultra-Compact SpeedFusion SD-WAN
The SpeedFusion Engine fits in the palm of your hand, making it easy to integrate into your existing products.
Combine 2 Cellular Connections
With a Peplink router at HQ, SpeedFusion SD-WAN technology combines 2 cellular connections to ensure reliable connectivity, no matter where you deploy
Plug-n-Play Integration
With an Ethernet port, a USB port, and 10W consumption, the SpeedFusion Engine can integrate with your devices without complicated software porting
---
See and Manage Everything on InControl2
Using Peplink's InControl cloud-based management platform, you can view detailed connectivity, data usage, and even location information on all of your SpeedFusion Engines. In addition, InControl is also capable of emotely accessing the SpeedFusion Engine's web admin, as well as applying batch configurations and firmware updates to groups of devices.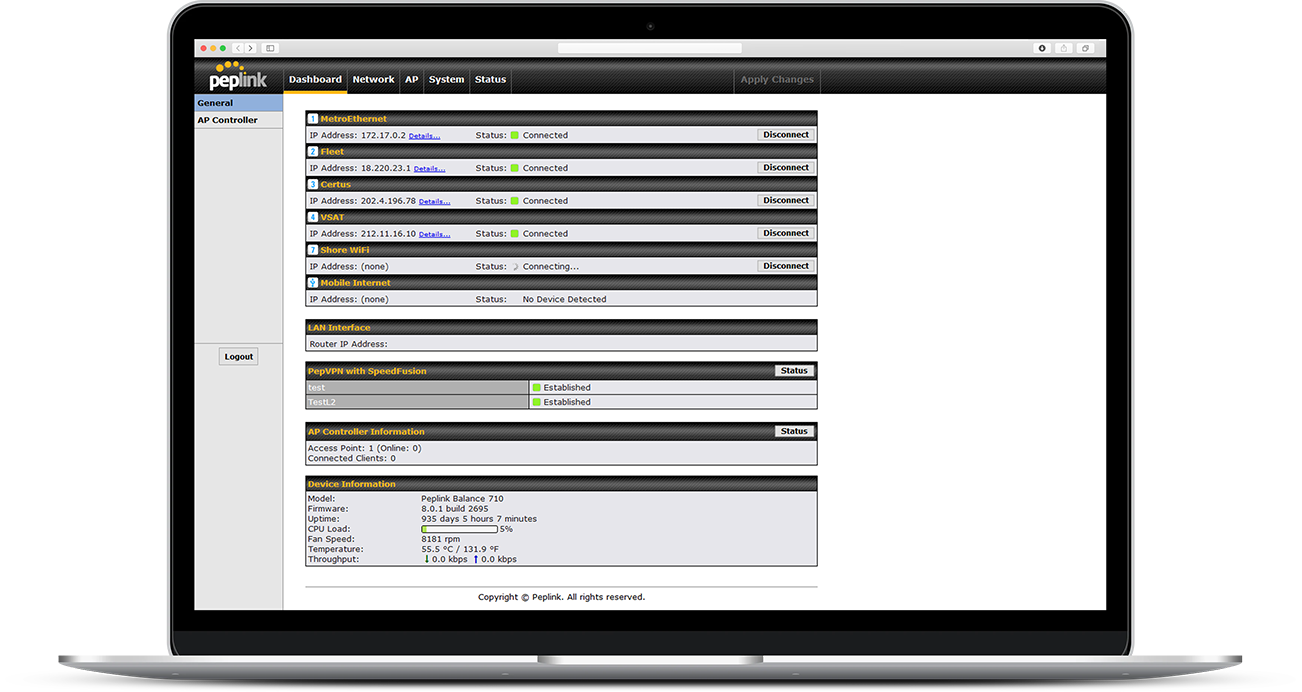 ---
Group-Based Configuration
Apply a single configuration to groups of devices at the same time, this is useful in situations where you wish to reconfigure SpeedFusion Engine before deploying it. Firmware configurations can also be pushed onto multiple devices, saving additional time.
---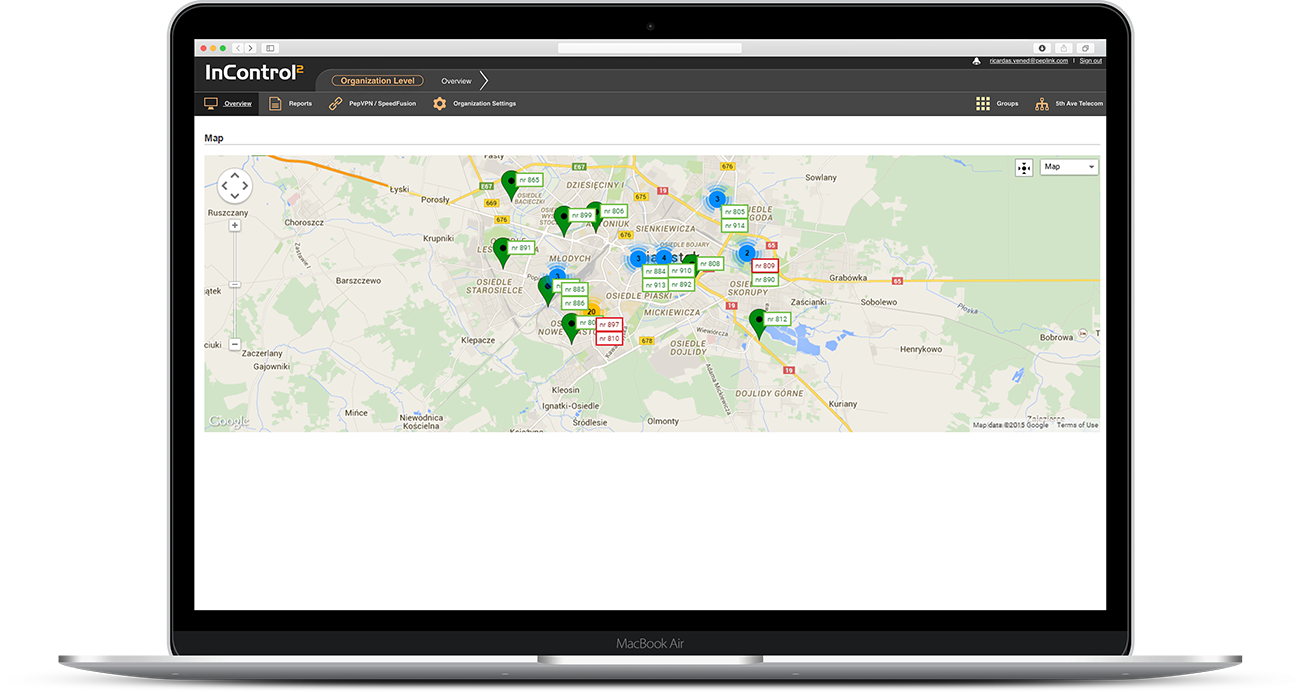 Device Location Tracking
Using InControl, you can keep track of all SpeedFusion Engines and other Peplink devices that you have deployed using a single map. Click any device to see where it has been at any given point of time, as well as traffic and connectivity conditions at that time.
---
Remote Web Admin
Use InControl to remotely access any connected device's web admin.
Features:
Software

WAN

Support for PPPoE, Static IP, DHCP
WAN Link Health Check
Bandwidth Allowance Monitor
Support for Dynamic DNS services

LAN

DHCP Server for LAN Clients
Extended DHCP Option
DHCP Reservation
DNS Proxy for LAN Clients
VLAN on LAN Support

Networking

NAT and IP Forwarding
Static Routes
Port Forwarding
Many to One, One to One NAT
NAT Pool
SIP ALG, H.323 ALG
UPnP, NAT-PMP

Advanced QoS

Individual Bandwidth Limit
Application Prioritization

SIP, HTTPS, VPN QoS
Custom Application QoS

Complete VPN Solution

PepVPN/SpeedFusion

Site-to-Site VPN
Hot Failover/ Bandwith Bonding + WAN Smoothing
256-bit AES Encryption
Pre-shared Key Authentication
Dynamic Routing
X.509 Certificate Support

PPTP VPN Server
IPsec VPN (Network-to-Network) *

X.509 Certificate Support

Captive Portal Support

Support for Wired and Wireless LAN clients
Support RADIUS Authentication
Time and Usage Quotas on Open Access Mode
Built-in Customizable Splash Page
Social Wi-Fi Hotspot support
External Captive Portal support

Load Balancing

Intelligent Failover
Session Persistence
Per-Service Load Distribution
Multiple Algorithms
-Weighted
-Enforced
-Persistence
-Priority
-Overflow
-Least Used
-Lowest Latency

Device Management

Web Administrative Interface
Command Line Interface
InControl Cloud Management
Email Notification
Active Client and Session Lists
Bandwidth Usage Statistics
Syslog Service
SNMP v1, v2c and v3

Global Positioning System

Integrated GPS
Device Location Map
Location Tracking Data with InControl 2
GPS eXchange Format (GPX)
Fleet Management with InControl 2

Security

Stateful Firewall
DoS Prevention
Web Blocking

Package Content

SpeedFusion Engine
Terminal Block
1x Ear Mount Set (ACW-769)
* IPsec VPN supports connection with Cisco, Juniper, Peplink, or Pepwave devices.
All specifications are subject to change without notice.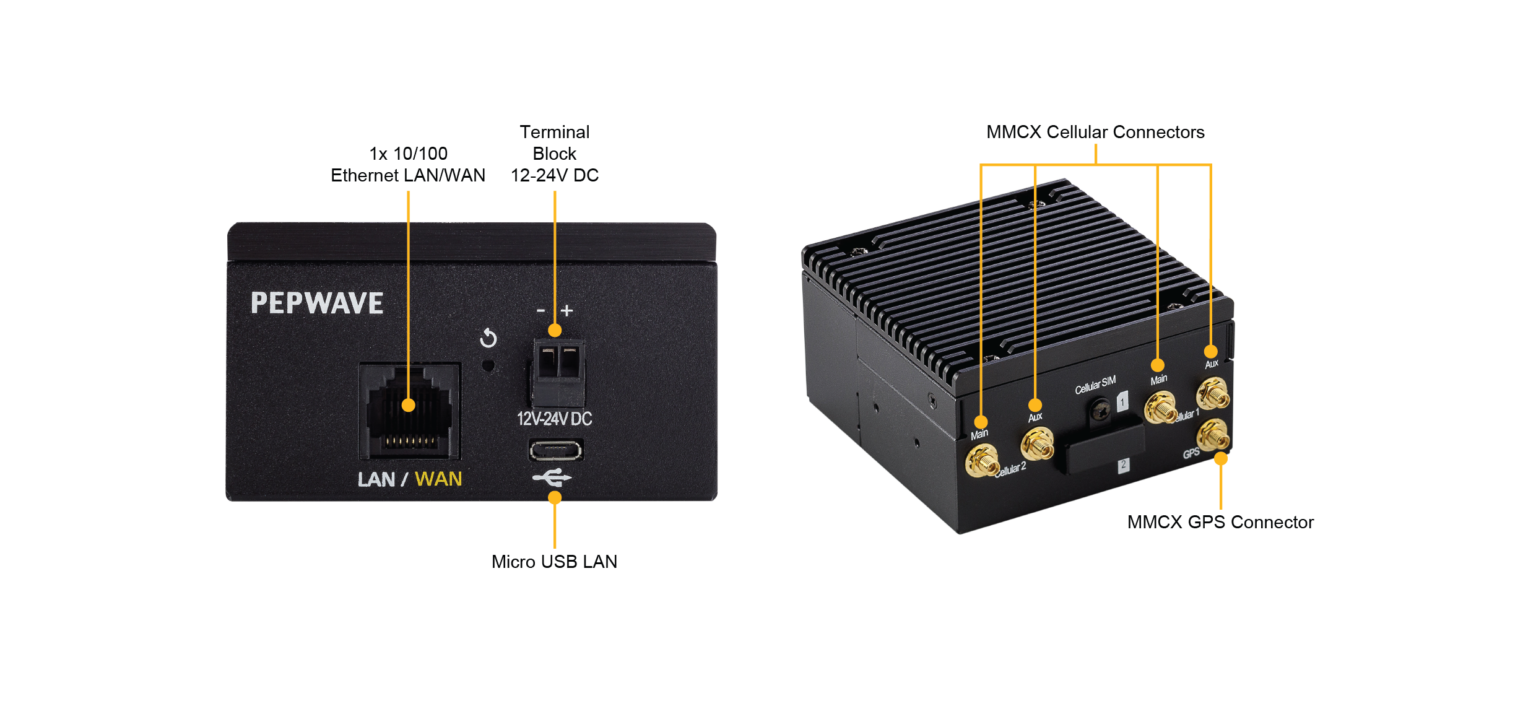 Specifications:
Particulars
Pepwave SpeedFusion Engine
Ethernet WAN Ports
1 (FE, shared)*
Ethernet LAN Ports
1 (FE, shared)*
USB LAN Port
Micro-USB B
Embedded 4G LTE / 3G
2
LTE Modem
Downlink/Uplink Datarate: 100Mbps/50Mbps
LTE-A Modem
Downlink/Uplink Datarate: 300Mbps/50Mbps
SIM Card Size
Micro-SIM (3FF)
Recommended Users
1-60
Router Throughput3
100Mbps
IP Passthrough
Yes
WAN as LAN
Yes
Web Blocking
Yes
Web Filtering Blacklist
Lite
PepVPN/SpeedFusion Throughput (No Encryption) / (256-bit AES)
40Mbps / 20Mbps
Enclosure
Compact, Indoor Metal
Terminal Block Power Connector for Mobile/Vehicular Deployment
Yes
Number of PepVPN SpeedFusion Peers
2
Dimensions
(Height x Width x Depth)
2.95 x 3.25 x 1.65 inches | 75 x 83 x 42 mm
Weight
0.77 pound | 350 grams
Power Input | Terminal Block
Terminal Block 12V-24V DC
Power Consumption
13W (max.)
Operating Temperature
-40° - 149°F | -40° - 65°C
Humidity
15% - 95% (non-condensing)
Certifications
-FCC, CE, RoHS
-EN 61373:1999 IEC 61373:1999 (Shock and Vibration Resistance)
-EN 50155 (Railway Applications - Electronic Equipment used on Rolling Stock)
Warranty
1-Year Limited Warranty
Pricing Notes:
All Prices are Inclusive of GST
Pricing and product availability subject to change without notice.
Pepwave SpeedFusion Engine
Pepwave SpeedFusion Engine
Accessories
SIM Injector, 8x SIM cards capacity, 4x 10/100/1000 LAN ports, 56V DC